This book is the first under the series "Eternal Truths" brought out by Divya Prerna Foundation. The book has fifteen select shlokas from the Bhagavad Geetha forming the core message of ShriKrishna. The book also identifies ten selected shlokas as ShriKrishna's Ten Commandments, and includes a Geetha Digest – Shlokas for memorisation and contemplation.
"The Samskrit shlokas are transliterated in English,and shloka's compound words are split with word-by-word meanings. Detailed commentary for each Shloka is given based on the study of the "Bashya" of eminent scholars like Swamis Chidbhavananda, Chinmayananda, Mahakavi Bharathi, Shri Ramanujacharya etc"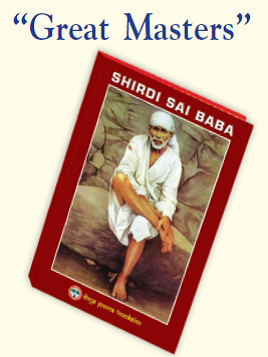 – by S.G.Subramanian Trustee, D.P.F
This book, the first under the "Great Masters" series, is compiled from the authentic life history of Bhagavan Shri Shirdi Sai Baba called Shri Sai Satchrita and contains some of His important sayings and interesting anecdotes on Sai Baba's mystical powers.
Sai Baba is a saint extraordinary who is beyond religions and being revered by millions in India and abroad, almost a century after his Mahasamadhi.