DIVYA PRERNA FOUNDATION
(Divine Inspiration)
Press Release
Inauguration of Public Solar Lighting System in TN Govt. CHILDREN'S HOME NAGERCOIL
PSLS PROJECT P-15 
11th April 2018
DIVYA PRERNA FOUNDATION is a Public Charitable Trust, based in Chennai, established on the 15th July 2011. DPF attempts to promote - sustainable living, in harmony with nature, along with the enrichment of the body, mind & intellect, helping to seek spiritual enlightenment by Divine Inspiration..
As a part of our Mission for Sustainable Living, we donate & install Solar Lighting Systems in Public Access locations, to demonstrate & promote the use of renewable energy systems.
DPF is proud to Inaugurate its 15th Project today, in TN Govt. Sathya Ammaiyar Children's Home, in NAGERCOIL, TamilNadu.
Vide letter dt 10 February 2018, Tmt S.Kumudha, District Children Welfare Officer, Kanyakumari District Government of TamilNadu, requested for a Solar Lighting System in their Children's Home, in Nagercoil, to ensure reliable lighting for the students to study, in view of the frequent power failures.. DPF requested SELCO SOLAR to visit the site & send a Feasibility / Project Proposal for the Solar System.
The Proposal was examined by DPF & was approved for procurement. DPF issued the orders for supply, Installation & Testing and Commissioning to SELCO SOLAR, on 18 Feb 2018. SELCO procured the equipments & successfully commissioned the system on 17th March 2018.
The system consists of 3 Solar Modules each of (60Wp x 12V) & one Battery Bank of 180AHr, one Charge Regulator (15A/12V) and total of 9 LED Lights – 2 X 5W LED Tube lights for the corridors, and, 7 X 10W tube lights for the two study rooms/Kitchen etc..In addition, 4 Nos of Portable LED Solar Table Lanterns were also ordered for distribution to students for facilitating individual study during examinations.
Warden of the Children's Home organized a formal Inaugural function for the system on 111h April, 2018, in their premises and invited DPF & SELCO to participate. Managing Trustee V.ParthaSarathy, along with his wife attended the function & SELCO was represented by Mr Nambirajan, Senior Manager, based in Madurai.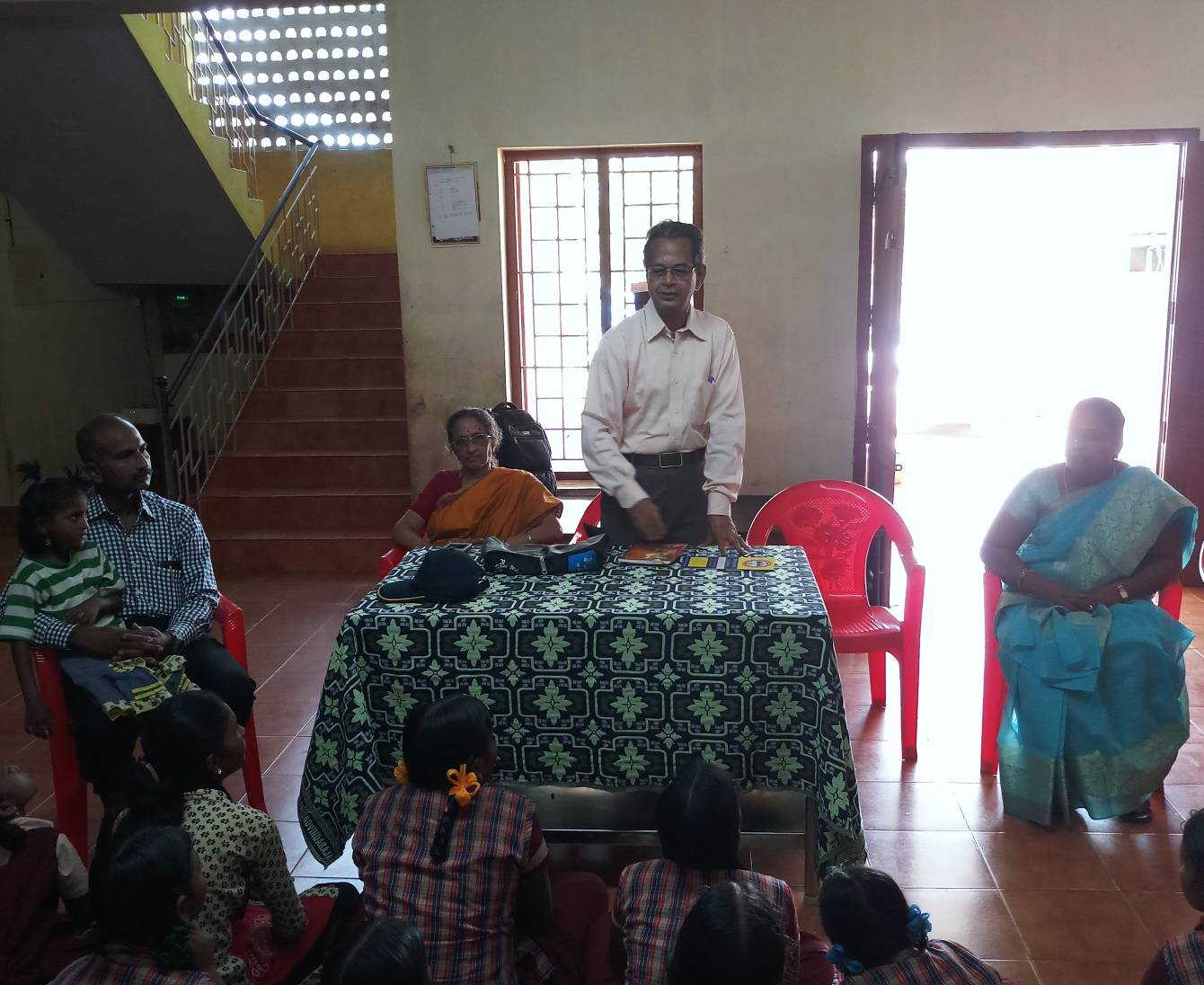 DPF Managing Trustee Shri V. ParthaSarathy addressing the audience
Tmt S. Kumudha, the District Children's Welfare Officer, who presided over the function, welcomed the Guests & thanked Divya Prerna Foundation for their generous donation of the Solar System, which will be of very good benefit to the inmates of the Home..There are about 60 children in the Home, mostly girls from distressed homes or orphans. The TN government supports them by granting Rs 2,000 per month per child for food, and other essential needs.
V.ParthaSarathy, Managing Trustee, DPF in his Inaugural address explained the origin of the Trust & its activities. He welcomed DPF being given a good opportunity to serve such an institution, and be of good service to the community of children. He requested the inmates to study well, "dream big" and work with faith & endurance to achieve their dreams. They will certainly realize their goals & he quoted a verse from "Thirukkural" to emphasise the point. He also praised Mr Samson, from TN Police, Anti-Naxalite Wing for taking lot of interest in the welfare of the inmates & helping the Home in all possible ways.
DPF Managing Trustee, handed over the Warranty Documents for the Solar System & also presented DPF publications "Panchajanyam Beckons" and "Shirdi Saibaba" to the Tmt Kumudha & Mr Samson.
Mr Nambirajan, SELCO Solar, will arrange to hand over 4 Portable Solar Table Lantern, which are in transit, to the Senior students, identified by the Warden.
Group Photo of all participants with the Children in front of the Home
The meeting concluded with Vote of Thanks by the Warden & Children of the Home to DPF & SELCO
The photos & videos taken on the occasion can be viewed in our Website www.divyaprerna.org



(V.Partha Sarathy)
Managing Trustee, Divya Prerna Foundation                                                                                                                                                            11th April 2018